Hi. I'm new here, although you might've seen the likes of me on Doom-related forums like Zandronum (as CommanderKeenFSR) and ZDoom. But that's besides the point.
Anyways, when I made some bosses in DECORATE, they function fine except for one thing. If it is a replacement for a boss that ends the game like Schabbs or Hitler, the deathcam plays, but the game throws me back into the game when I hit a button.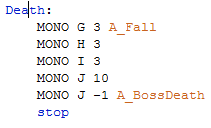 As you can see, I AM utilizing A_BossDeath, but I still encounter this issue. Anyone got any solutions? Thanks.