Greetings, all! Seeing that I have Mission 2's map slot, I feel it is the right time to start up my development thread. So here it is.
Firstly, a progress map. I'll update this as it comes along and I see fit.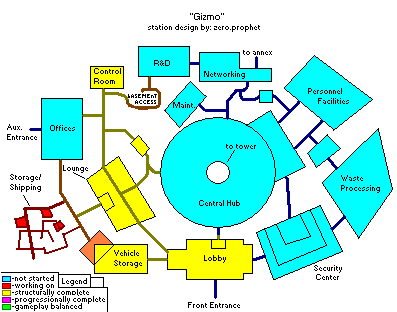 Current Stage: "STRUCTURE", Progress: 15%
Yes, "Gizmo". That was the name of the original map and now it is the name of the research station. A bit of an odd name, but it fits the odd location and purpose. As you can see, it's a bit large, not perfectly linear, and most importantly, not gridlocked! See, one thing I've always admired about iD's original maps that most authors these days fail to emulate is that the guys at iD weren't scared to make non-square constructs and slanted rooms. I have done the same, and it adds a bit of charm, really.
But this is all talk so far, isn't it? Yes, the map isn't close to being done, but I've got grand plans, including a rather dramatic finale. Current methods suggest that I'll probably finish the map using standard textures but later revamp the entire thing to use NMN's Corporation texture packs. I will perhaps make use of a few GZDoom specifics as well, 3d platforms in the like, but for the most part it will remain true to its roots. Whatever that means.
And now for some screenshot action! Descriptions lie in wait below.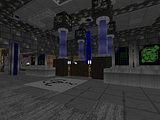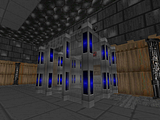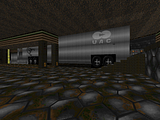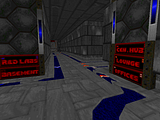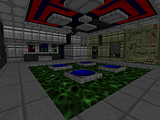 TOP ROW:
1 - An impressive entryway? At least it quenches thirst.
2 - Elaborate Glass Structures - The mark of any evil corporation. Or at least one of them...
3 - How else do all those crazy crates get here in the first place?
4 - The test results for rapid cell growth exceeded expectations...
BOTTOM ROW:
5 - A global study of all employees reported the rates of lost individuals at a staggering 48%. These handy signs help to remedy that problem.
6 - Someone left the water running in the control room, it seems. How typical.
7 - These handy terminals guide you throughout the complex. Or at least drive you mad with error messages. Take your pick.
8 - Even after draining the control room, that pesky hazardous sludge still poses a problem.

This thread will shift and rearrange to reflect progress. Leave questions and comments if you so desire.